Half of the year is over and this year has been crazy with soo many books and reviews and bookstagram pictures. Thank you so much chicnerdreads for the tag I am so excited to do this wonderful tag!!! Though I would say that couldn't complete reading many books these past months I am definitely happy with the books i read. They were all so amazing and i enjoyed each one of them!
As per Goodreads I have finished 15/30 books and well that's 50% but I wish I would have been able to read some more you know! but considering that i am juggling studies, classes and reading makes me feel happy and I think I can get more books read by the end of the year!
BEST BOOK READ IN 2016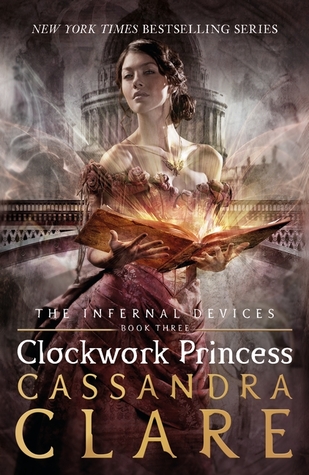 Definitely without a doubt Clockwork Princess! If you guys haven't read TID yet go read it. I promise you'll love it! I cried, I laughed in the book all at the same time!
BEST SEQUEL YOU'VE READ IN 2016
So I read only 2 sequels that is Girl online on Tour and Clockwork Prince and i thoroughly enjoyed both of them but Clockwork Prince much more! These two books were damn amazing and i loved them to the core. Though I think we all can agree that The Girl Online was better than the sequel.
NEW RELEASE YOU HAVEN'T READ, BUT YOU WANT TO
This was one of my most anticipated releases of 2016 and I really want to read it sooon, I hope someone just sends me a copy to review. Have any of you'll read it? What did you think of it? Also OH MY GOD The Hidden Oracle just released and well. ahh where can i get a copy of this book? I've been dying to read this ever since it came out.
MOST ANTICIPATED RELEASE FOR THE SECOND HALF OF THE YEAR
When i found out this book was releasing I wassoooo happy. Because the last book's ending was soo abrupt, I really needed to know what happened next and this book does just that.
BIGGEST DISAPPOINTMENT
So I actually enjoyed this book though compared to all the hype and all I think it wasn't really that great and the end wasn't very satisfying. Though I did like it I didn't love it like all the other books I read.
BIGGEST SURPRISE
This book was definitely a really nice surprise. I really expected it not to be very good but it turns out I was very wrong and  ended up crying so much after reading this, ahh….
FAVOURITE NEW AUTHOR ( DEBUT OR NEW TO YOU)
I have started loving her after reading flawed and i definitely plan on reading more of her books, soon. Her writing is great and I totally love it and she's definitely one of my new favs.
NEWEST FICTIONAL CRUSH 
WILL HERONDALE
Ahh, its definitely Will Herondale. I'm in love with him. He's so PERFECT and his personality is too and that's one of the main reasons i started Loving him! And well Black hair and Blue eyes is definitely the Perfect combination! Who else agrees???
BOOKS THAT MADE YOU CRY
guess I cried a lot and mostly by Cassandra Clare books!
BOOK THAT MADE YOU HAPPY
Fangirl definitely made me feel very happy and light headed and Also Flawed which showed how the protagonist chooses her own path and goes against the system! YOu should definitely check these two books out!
FAVOURITE BOOK TO MOVIE ADAPTATION
None I guess, Because I didn't see that many adaptations this year!
FAVOURITE BLOG POST YOU DID THIS YEAR 
I guess all of them but mostly all the reviews and all those Top 5/ Top 10 those kind of posts but overall I think all of the posts.
MOST BEAUTIFUL BOOK YOU BOUGHT
Definitely Lady Midnight, though I didn't buy I received it from Simon and Schuster. They are the best!
WHAT BOOK DO YOU NEED TO READ BY THE END OF THE YEAR
The unexpected Everything, The Hidden Oracle, The Square Root of summer and my whole tbr list!
I tag anyone who wants to do this tag, but just inform me that you've done it. I'd love to read your answers.